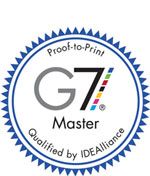 RPI is now a Qualified G7 Master
The IDEAlliance G7 Masters program identifies Qualified G7 Master printers as those printing companies that have been trained to use the G7 Proof-to-Print Process and can produce proofs and print to the G7 specifications. The G7 Master Printer qualification means that our company uses the most modern technology, techniques, proofing, press controls, and standards required to produce a close visual match from proof to print.

What does this mean to you?
RPI is now a fully qualified G7 Master Printer for proof, digital and offset printing, allowing our customers to benefit from the best color management system available today. This means that we use the worldwide industry standard G7 process to match color across multiple devices so that your print colors will look the same, regardless of where or how they're printed. Our proofing systems and presses are calibrated and our technicians are trained and qualified to produce repeatable consistent color and images from proof to press. We are proud to join a very select group of printers who have earned this seal of approval, and we are excited to use this state-of-the-art process to meet all your printing needs.
More accurate match between press and proof
Similar visual appearance across all print processes
Faster turnarounds and less material waste
Better color control saving you time and money
Achieving the G7 Master Printer status means that RPI has successfully completed rigorous training, testing and auditing. And we are committed to annual re-certification to assure strict adherence to the process, and to maintain our G7 Master Printer status.
For more information, visit Idealliance.org